Biz2Credit Job Meter 2013: Helping Jobs Creation by Facilitating Funding to Small Businesses
Rohit Arora, CEO and co-founder of Biz2Credit, is one of the country's leading experts in small business finance. Since its founding in 2007, Biz2Credit has arranged $1 billion in small business loans Learn More...
The much awaited Biz2Credit Jobs Meter is out and once again we have proven to be the pioneers in facilitating business loans and fulfilling the credit needs of small businesses in the United States. Since the last release of the Job Meter info graphics, we have come a long way.
In the last two years we have witnessed an exponential growth in our reach to small businesses, loan sanctions and lender networks. Since 2007 we have funded loans worth $ 1 Billion. We have created or saved 19,710 jobs and expanded our lender network to 1100 Banks.
We look forward to a brighter future and stand committed towards helping small businesses expand their business.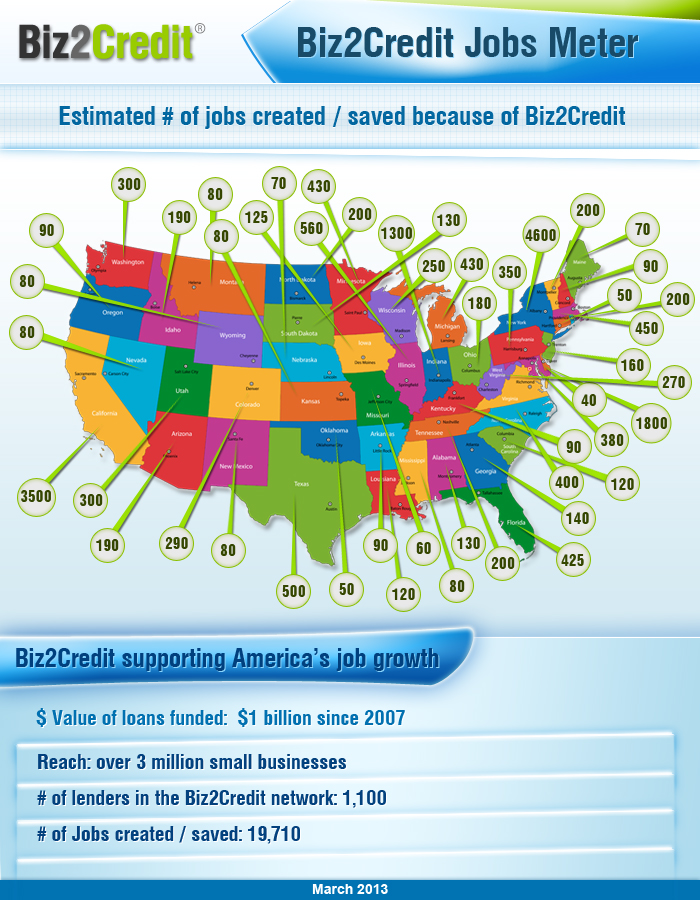 This article was submitted by Rohit Arora, co-founder of Biz2Credit. Biz2Credit is a small business marketplace that connects entrepreneurs with financing options and advice to grow their business. Send all questions to
info@biz2credit.com