Fill in the details below
You're in good company: Biz2Credit works with 1,100 plus banks and 150,000 plus small businesses!

Register & Submit Loan Application
Receive Financing options for your Business
Interact with Lenders and Get Loan
Questions on how to get a loan with Biz2Credit? Ask us!
Call 212-644-4555 (ext.101)
E-mail info@biz2credit.com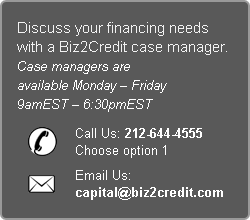 "Biz2Credit delivers a borrower and a loan package, including required loan documents such as tax returns, personal financial statements and banking statements. It's not a broker, it's a partner that helps the bank succeed."

Roxanne SanchezBusiness Develpment Officer
Biz2Credit in the News