Best Business Ideas for 2017
Faith Stewart is a wife, mom, and freelance writer. She earned a BBA with a major in accounting and spent 10 years working in the fields of finance and accounting before pursuing her passion for help Learn More...
★★★★★

based on

457

reviews
Overall rating: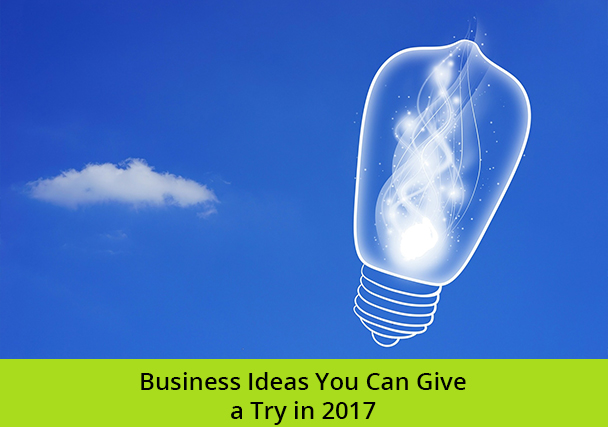 If you have ever thought about jumping into the entrepreneurial waters and starting your own business, 2017 is the year to do it. Technology is exploding and making starting a business easier than it has ever been. Having trouble coming up with an idea? Here are the best for 2017.
Think Inside the Box
Subscription boxes are growing in popularity, and it doesn't show signs of slowing anytime soon. Basically, think of something people like, put a bunch of things that relate to it in a box, and offer a monthly subscription, with different surprises in each box.
Subscription boxes exists for junk food, health food, foreign food, health and beauty items, shave items, even women's devotional time product and survival tools. The sky really is the limit. You could create a scent subscription box for candles, or perfume, or both. Imagine a gamer's subscription box with a new game and gaming accessories or snacks each month.
The key to these is to keep them interesting and affordable. They have to be worth the money. If you like this idea, get to work now finding partners to supply products and hammering out other details.
Women's Health
If you can come up with an idea for a business that aids and supports women's health, you may strike gold. Health and fitness are huge anyway, but women want services and products tailored to their needs. If you can fill that gap, you just may have a successful business on your hands.
Food on the Go
There are two different types of food business that are booming right now. The first is the food truck. From gourmet grilled cheese to fried delights, food trucks are extremely popular in many areas. The ability to go where the customers are is what makes these work. Of course, if you have a winning recipe, the customers will come to you as well.
Healthy vending machines are another big deal. Vending is the go to for fast, on the go dining. The problem is, they are historically full of junk. In today's health minded world, this is a conundrum. Vending that offers healthy options in strategically placed areas can be very profitable.
Kid Tech
Today's kids have access to more technology than ever before. This is not always a good thing, as there is much danger lurking in behind technological veil for little ones. Apps and protection options that offer safety and fun for young minds on mobile devices are going to continue to grow in importance.
Freelancing
If you have a skill, consider hiring yourself out as a freelancer. Many businesses seek to hire professionals on a contract basis to complete one time projects. Others do not have enough daily work to keep an employee full time, but a freelancer could combine several such clients and stay busy. Accounting, writing, marketing, and design services lend themselves well to this type of work, but those with other skills sets can find success freelancing as well.
Biz2Credit can help you find the financing you need to get started. Our network of lenders offers small business loans of various types, and we can help you find just the lender for you. Visit Biz2Credit.com today to find out more.