How Small Business Contributes to Our Society
Faith Stewart is a wife, mom, and freelance writer. She earned a BBA with a major in accounting and spent 10 years working in the fields of finance and accounting before pursuing her passion for help Learn More...
★★★★★

based on

457

reviews
Overall rating: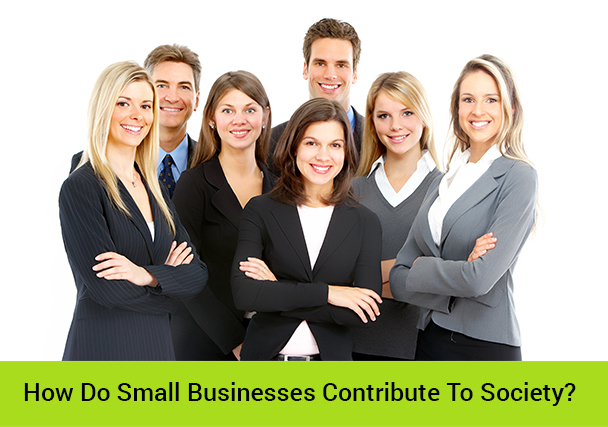 The Economic Development push, both rural and metro based, across the country is focused on bringing in industry. While that is not a bad thing, what if economic development also focused on support for small businesses to help them flourish, and also for entrepreneurs, to encourage small business growth?
Would the investment be worth it? Would the impact on the economy and society as a whole be worth the time and funds put into encouraging and supporting small businesses and entrepreneurs? The answer lies in the answer to another question. How does small business contribute to society?
How Big is the Small Business Population Really?
It is hard to tell. Research shows one thing, but it is likely many get lost in the shuffle. One new study used a household sample and asked each household included if they ran a business. Of 1,224 included, 221 respondents (18%) stated that the household did own their own business.
This tells a story different from what many have been led to believe. It seems small business is a larger part of our economy than what may have been believed.
Jobs are Jobs
While industry brings in hundreds of jobs, and sometimes even more, a job is job. If a small business employs even just one person, that is one less unemployed person. If these businesses are supported to a point they are able to gain sticking power, that is a job that one is more likely to stick with. This is because often small business jobs are more fulfilling on many levels.
Income is Income
The brass tacks of a healthy economy is that people have disposable income to pump into it. Income is income however it comes, and income earned working in a small business atmosphere spends just the same as that earned working for a big company.
Entrepreneurial Opportunity Offers Hope
The idea that one can own his or her own business offers society hope. Supporting this effort can go far in creating a society that thrives. Hope is not a minor thing. It is a big deal. Indeed, most industries began, somewhere, with someone, as an entrepreneurial opportunity.
Look Closely At a Society without Small Business
While it may seem that the impact of small business on society is minor when compared with that of larger entities, consider the hole that would be left if it disappeared. The hope would be gone, and the idea of new business and competition would go with it.
If big business grows from small, then taking away the small leave you only with the big that is already here. There is no new business, no new competition, and the impact of this lacking would be devastating for society as a whole.
Viewed from this perspective, small business contributes greatly to society and should be supported as much as possible. Biz2Credit is doing our part. Our network of lenders offers a broad range of small business financing products for various types of borrowers to help them get started and grow to their full potential. Visit Biz2Credit.com today for more information.