Guide to Getting a Business Loan in New York
Small businesses are among the largest drivers in New York State's economy. There are more than 401,000 small businesses in the state comprising over 98% of all private businesses in New York. With more than half of New York State's private workforce employed by small businesses, state and local governments have developed plenty of programs to continue small business growth. Local government support is especially strong in New York's major cities of Buffalo, NY and New York, NY.
Biz2Credit's Platform Makes Financing
Available for Small Businesses
Your New York State and Local Small Business Funding Guide
Business management and funding support from state and local governments has been the key to small business recovery as New York continues to feel the effects of the COVID-19 pandemic. Hospitality, accommodation and food services along with other in-person businesses suffered the greatest effects from COVID-19.
Fortunately, many of those businesses affected by the pandemic have been able to adapt and recover with less severe effects than were experienced a year ago. According to the Office of State Comptroller  30% of small businesses surveyed reported little to no effect or even a positive effect from the pandemic. While one in five small businesses also reported a return to "normal operations."
Small business owners in New York can take advantage of business management and financial services programs and loan options built by state and local governments to support their development and growth. Outside of municipal options, there are plenty of private business-to-business funding and management programs. These may range from grants to bank loans, and alternative financing.
Here is your 2022 guide to funding and growing a small business in New York State.
What will this guide cover?
In this guide, we will be discussing several common professions and the types of loans that are most relevant to their business needs. We will specifically be covering:
How to be successful with business funding
Using business funding successfully is often the product of good planning. Get your business prepared to take outside funding by answering four quick questions.
How much money is owed to your business (accounts receivable)?
How much money does your business owe (Accounts payable)?
How and when does your business recognize its costs and revenue?
What are your short term and long-term financial goals for your business?
Once you have confirmed your business needs, its financial capacity, and goals, you can easily decide what type of funding will best suit your business. In general, there are two types of business funding – short term and long-term business loans.
Short Term Funding
Short term funding is used to help businesses meet their short-term financial obligations or to take advantage of immediate financial opportunities. Typically, the time allowed to repay a short-term loan is 12 months or less but may extend as long as three years.
Examples of short-term business funding include commercial bridge loans, working capital, commercial real estate, invoice, and inventory financing, among others.
Short term business funding options differ most from longer-term financing in that they are often dedicated to a specific use or may be tied to strict repayment terms. In general, the narrow application of funds allows lenders to more effectively evaluate the business's ability to repay the requested loan. In turn these specialized short-term products can meet the needs of more businesses.
Short-term business funding is most often provided by alternative and online small business lenders. These lenders typically are not depository institutions. Rather than function as a bank that gives loans, they operate as small business loan specialists. Specialized evaluation criteria used by these lenders means the funding solutions can be more flexible and easier to access for businesses with less than perfect financial history.
Short term lending can be a good fit, if your business needs to increase cash flow quickly. Alternative and online small business lenders often have shorter applications and can be more efficient with their evaluation and underwriting processes.
Borrowers should consider all their financial options and financial capacity before seeking outside funding. Short term funding solutions often come with more strict repayment plans, collateral, or higher interest rates. To successfully use short term funding options businesses should be prepared to make relatively larger payments in a shorter amount of time.
In the end, this practice can get your business the funding it needs when it needs it while progressing faster toward decreasing business debt.
Long Term Funding
Long term business funding is used to help a business meet its long-term financial goals. In general, these loans have repayment terms between 3 and 10 years. Long term financial products are often associated with more traditional banking options, and include bank loans, term loans, and line-of-credit loans.
Typical long term small business loans have similar characteristics including predetermined repayment periods (loan term), use of interest rates, and more strict lending criteria. SBA guaranteed loans and bank loans used to start a business, to pay for fixed assets, or ongoing operational costs are all examples of long-term funding and how it can be used.
With the repayment period for some long-term business loans lasting up to 25 years, businesses should evaluate their longer-term financial goals and strategy before seeking this type of business funding.
Fixed assets that may be worth taking out a long-term loan include property or equipment used to perform business functions. Additionally, operational costs might include the costs associated with the production or transportation of goods provided by your business. While operational costs are often met with short-term loans, they may also be provided for by line-of-credit loans.
Longer-term business loans are often provided by depository lenders or banks. These loans generally have longer application processes, are intended for larger sums of money and may be harder to qualify for.
To make traditional business funding available to a larger group of small businesses, digital lenders have begun lending term loans and other more traditional financial products. These offerings balanced with a more detailed evaluation of business performance is giving many small businesses greater options when it comes to funding.
Documentation Needed to get a Small Business Loan in New York
What documentation is required to apply for a small business loan?
The exact documentation needed to apply for a business loan will depend on the lender, their criteria and the type or loan being applied for. However, in general terms, business owners can expect to complete loan application documentation, to provide credit history and to show proof of the business's financial performance.
Small business loan general documents list:
Completed loan application
Background information of borrower(s)
Value of property or asset (if applicable)
Business credit score
Personal credit score
Financial statements including annual revenue
Sources and uses of funds
Business liabilities or expenses
Business bank statement
Business tax information
Proof of insurance
New York's Top Business Funding Options in 2022
New York Small business owners have a variety of options and types of loans to choose from. These options range from government backed loan programs, to bank loans, grants, and working with specialized alternative lenders.
State programs such as Empire State Development's Small Business Division are built specifically for the development of small businesses with100 employees or less. All the small business division's programs are aimed at supporting entrepreneurship in the state and driving small business growth.
Business owners can find certainty in the next step of their business by getting to know all their options. They may start by visiting (in person or online) local small business centers or controllers, getting to know grant opportunities and choosing a funding program that fits their time and budget requirements.
Here are the top small business programs and services in New York State.
Statewide Small Business Loan Programs in New York
Direct loan program providing small business loans for New York State businesses in manufacturing and other eligible industries.
The Job Development Authority Direct Loan Program provides direct loans for the growth of manufacturing and other eligible businesses within New York State by assisting in financing a portion of the cost of acquiring and renovating existing buildings or constructing new buildings ("real estate" projects) or for purchasing machinery and equipment ("M&E" projects).
Direct loan program built to help companies export goods as direct exporters or as suppliers to larger exporters.
The Global NY Loan Fund is open to New York State businesses that need funds to create or expand direct exports, or to serve as suppliers to larger exporters. The loans can be used to purchase equipment and inventory. Funds may also be used as working capital to support foreign accounts receivable, export lines of credit, or long-term financing.
ESD also offers interest-free loans for Distilled and Fermented Beverage industry businesses.
New York State backed small business bridge loans made available through participating lenders.
The "Bridge to Success" Loan Program aims to provide qualified Minority and Women-owned Business Enterprises (MWBEs) with access to short-term bridge loans necessary to execute contracting opportunities across New York State.  Participating lenders are incentivized to increase lending under the "Bridge to Success" Loan Program through Empire State Development's (ESD) Loan Loss Reserve Fund. This fund of $2.73 million will mitigate the risks that "Bridge to Success" Lenders may take on.
The NYS Surety Bond Assistance Program (NYSBAP) provides technical and financial assistance to help contractors secure surety bonding and take on more projects in New York and New York City.
Through the Surety Bond Program contractors may receive a guarantee of up to 30% to secure a surety bond line, bid bond or a performance and payment bond on New York State and New York City agency led projects.
The RRLTF offers working capital loans to small businesses of up to $100,000 or 90% of the total project cost, whichever is less.
Loan terms, interest rates and collateral requirements are determined by the administering corporations and their loan committees.
Empire State Development (ESD) has capitalized Regional Revolving Loan Trust Fund (RRLTF) programs operated by regional not-for-profit organizations in New York State for the purpose of making working capital loans to small businesses located within New York State that generate economic growth and job creation and are unable to obtain adequate credit or adequate terms from commercial lenders.
Community Development Financial Institution (CDFI) Revolving Loan Fund Program
Agriculture is a major economic driver for New York State (NYS) – with 7 million acres of farmland and nearly 36,000 family farms. The JDA Agriculture Loan Fund aims to alleviate economic barriers faced by many small NYS agribusinesses looking to grow and expand, including value-added processors, food distributors, food aggregators, beverage producers and Food Hub participants.
Regional Small Business Funding in New York State
Where to get a small business loan in New York City
New York City government department of Small Business Services (SBS) is an organization dedicated to the development and success of small businesses across New York. The goal of New York City SBS is to support small businesses as an integral part of the New York City SBS helps small businesses grow by providing the following services.
Helping minority and women-owned businesses (M/WBEs) get City-certified and compete for contracts
Connecting entrepreneurs to free resources ranging from business courses to legal services
Explaining government rules and regulations
Helping entrepreneurs apply for funding to launch or grow a business
Financing assistance from NYC SBS can be found on their business services webpage. Their funding services include access to financing assistance, the Contract Financing Loan Fund, and NYC financial empowerment centers.
Where to get a small business loan in Buffalo, NY
Small business owners can find many of the programs they need at the Erie County Office of Economic Development. This Economic Development office and the department of Environment and Planning are tailor made to support the over 25,000 small businesses of Buffalo, New York.
The Erie County Office of Economic Development in the Department of Environment and Planning takes pride in fostering collaborative efforts to support the total Erie County business community. Whether developing industrial sites, or facilitating micro loans to businesses, the Department of Environment and Planning works to provide the right industry and service providers to businesses in need.
Top Small Business Grants in New York State (2022)
Global NY State Trade Expansion Program (STEP)
Industry: Exports and export suppliers
Grant Amount: Up to $6,000
Deadline: Ongoing
New York State makes up to $6,000 available for businesses entering the global export business.
The Global NY State Trade Expansion Program provides grant money to small businesses entering the export market. Funds from the grant can be used for virtual services, compliance testing, export training workshops, international marketing campaigns, foreign market sales trips and trade shows.
To apply businesses must be at least one year old and provide an exportable good or service.
New York StartUP! Annual Business Plan Competition
Industry: Startup
Grant Amount: Up to $15,000
Deadline: January 31
Entrepreneurs located in New York City can present new business ideas for a chance to win $15,000. While the submissions are closed for 2022, the annual event will be hosted again in 2023.
Entrants into the New York StartUP! 2022 Business Plan Competition can win up to $15,000 to start their business. Competitors also get access to invaluable business support and resources. To participate, competitors must live in Manhattan, The Bronx or Staten Island, and the business plan must be in one of those three NYC burrows. As this competition is for true startups—your business must have earned less than $10,000.
Global NY Fund Grant Program
Industry: Exports and export suppliers
Grant Amount: Up to $25,000
Deadline: Ongoing, rolling
Global NY Fund Grant Program targets NY exporters and suppliers to support them with the funds needed to continue or expand work.
For-profit businesses can get up to $25,000, whereas non-profits can receive up to $100,000. Applicants should speak to a ESD Global NY representative for application guidance before applying, or risk delays in application process time.
Once received, the grant money can be used for export workshops, product adaptations to meet foreign regulations, trade show participation and market customization.
New York State COVID-19 Pandemic Small Business Recovery Grant Program
Industry: Open
Grant Amount: Up to $50,000
Deadline: Ongoing, rolling
The amount of money can receive under the New York State COVID-19 Pandemic Small Business Recovery Grant Program depends on the gross receipts for 2019.
To apply for the grant your business must have gross receipts between $25,000 and $2,500,000. It must also have at least $1 of net profit on its 2019 business tax return. Unfortunately, businesses that received grant assistance through any federal COVID-19 economic recovery or business assistance grant programs are not eligible. This restriction includes any company that received a Paycheck Protection Program (PPP) loan that was forgiven.
Best Small Business Banking Programs in New York State
Traditional banks and other lenders, including credit unions or CDFIs, that provide business bank accounts are a good place to look for everyday business financial services. Many of these lenders have a larger suite of financial services and departments dedicated to small business.
General small business services that are often provided by traditional banks include business banking accounts, business credit cards, tax filing, term or bank loans, and business lines of credit. Here's our list of the top traditional lenders in NY based on the small business services offered, including small business loan options.
TD Bank
TD Bank offers business checking accounts, business line of credit, and loans ranging in term from 1 to 5 years.
First Republic
First Republic offers business checking accounts, a wide range of loans, money market and foreign exchange solutions, and business lines of credit.
M&T Bank
M&T Bank offers business checking, merchant services, business credit cards, term loans, business line of credit and SBA loans.
Dime
DIME offers business checking, business savings, merchant services, term loans, and SBA loans as an SBA Preferred Lender.
Small Business Administration Resources in New York State
The U.S. Small Business Administration is a national government agency that is built to support entrepreneurs and their new or existing businesses. SBA services are free to use and are often provided through community small business development centers or banking and lending partners.
In New York State the SBA can help small business owners with business management, financial planning and find access to SBA loans and SBA microloans. Find a full list of SBA resources New York District Office Resources webpage.
Online Lending Options
Online lenders can offer small business owners specialized funding options that fit their business requirements. They often consider the total financial health and assets available, which may increase odds for getting funded. And because these lenders specialize in small business funding the application and underwriting processes are often shorter, decreasing the time it takes to receive funding.
Founded in 2007 to help businesses recover from the great recession, Biz2Credit has grown to help small businesses of all sizes get the funding they need to maintain operations and grow. By the end of the Paycheck Protection Program in 2021 Biz2Credit was the 7th largest lender, by loan amounts provided, and the largest fintech provider of those loans, including many tens of thousands from New York.
Biz2Credit's funding platform matches small businesses to the best sources of capital based on each company's unique profile. Completed in just a few minutes, the process is built to be secure, efficient, and transparent. Funding options provided give a range of loan payment terms based on eligibility. Biz2Credit funding products include working capital, commercial real estate, and term loans.
Getting Started
You've made it through the 2022 guide to New York's small business funding. Reaching your small business goals and attaining the funding you need is just a matter of getting started.
Small businesses in New York have several funding options available to them, ranging from traditional bank loans to specific bridge loans that may help your business meet short-term financing needs. In all cases, the best strategy for funding your small business is to be prepared with a plan for both your short term and long-term financial goals. Business owners can expect application processes and underwriting to become longer or stricter as their financial ambitions grow larger.
Online lenders dedicated to business funding are a good way for New York's small businesses to access the funding they need when facing financial challenges or time constraints. However, business owners should consider all their options before choosing this next step toward financial growth.
Evaluate options specific to your region and trade to find the best business financing option for you.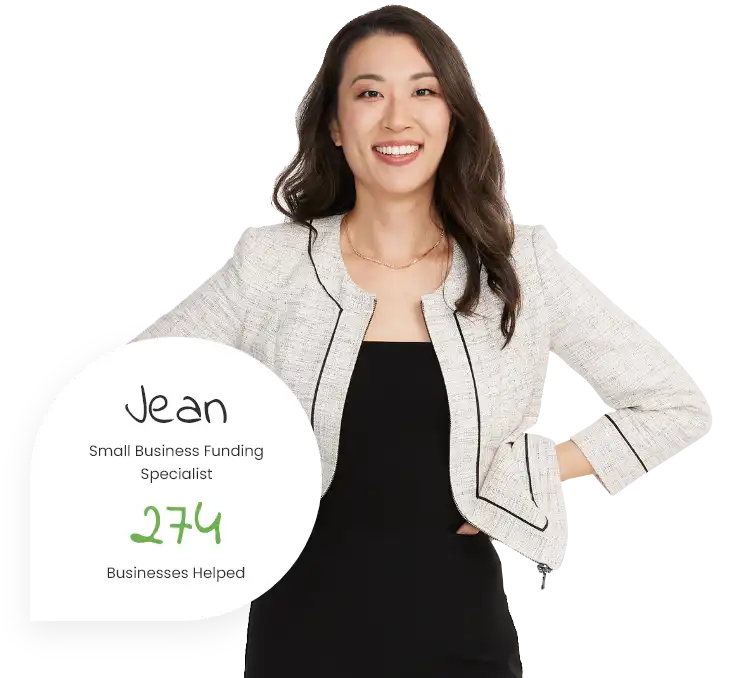 We've got your back for whatever business you run
You're here because you have big goals. Ours is to ensure businesses of all kinds are connected to the best funding solutions for their needs.
Behind our fast funding, reasonable rates and terms are human beings who keep an efficient, price-transparent environment top of mind.
We'll be direct about it.
Call : 800-200-5678
Monday - Saturday: 8am - 9pm ET