Funding Need
Our customer is an immigrant entrepreneur who desperately needed capital to update her cosmetic company's inventory.
Solution
We were able to help the business owner put together an impressive loan application and get access to working capital in less than a week.
Our Customer's Story
Ramona Almanzar moved to the U.S. from the Dominican Republic four years ago. She has been an entrepreneur her entire life, and her dream has always been to start her own business in America. On September 30, 2010, she turned her dream into reality when she started Time Line Cosmetics, Inc. Ramona now runs a successful enterprise manufacturing vitamins and organic beauty products including shampoos and conditioners.
After nearly two years, her business was growing fast with the help of a great sales team that was working hard to bring in new business. The one obstacle that was slowing down Ramona's growth was a lack of working capital. The new orders were pouring in but she lacked the funds to maintain the inventory to fill them. Ramona approached her local bank to apply for a business loan and was immediately turned down. She was told she didn't qualify for even the smallest of loans.
She told a friend about her financing struggles and they recommended that she reach out to Biz2Credit. The next day, she was connected with her Biz2Credit loan specialist, George Jouvin, who not only worked hard to understand her business and financial needs but was also able to communicate with her in Spanish.
How Biz2Credit Helped
Biz2Credit Loan Specialist: George Jouvin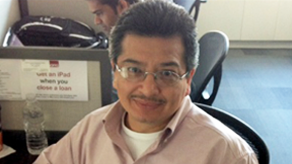 Ramona's expectations were bleak when she initially called Biz2Credit. She had already been turned down for a loan once and didn't have high hopes that George could find her funding.
George worked closely with Ramona to put together an impressive loan application. Together, they ensured that all of her financial documents were in order, thoroughly discussed the loan application process, and discussed ways that Ramona can continue to improve the financial standing of her small business going forward.
To her surprise, George was able to find her financing; and it only took him a week to do it. With the money, Ramona was able to purchase additional inventory and take on new customers. George is currently working to help her secure a second loan.
Ramona says "What was impressive was the professionalism of my loan specialist and how responsive and courteous he was to all my questions and concerns. He was very motivated with my situation and was willing to help."